At Grupo UAS, we are leaders in the professional drone sector at a national level, providing comprehensive aeronautical management, consulting, training, and aerial services with UAS.
Here you can find more information about Grupo UAS. About us
About us
Our team is highly qualified, with specific training in the drone industry. We are professionals in the field, equipped with a multidisciplinary team that is committed to continuous learning and improvement.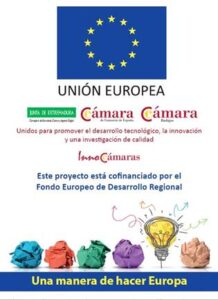 In collaboration with the European Fund, the Government of Extremadura, the Ministry of Economy, Science and Digital Agenda, for the acquisition of equipment to transform and improve our business activity affected by COVID-19.
"UAS GESTIÓN Y CONSULTORÍA S.L. has been a beneficiary of the European Regional Development Fund whose objective is to enhance research, technological development and innovation, and thanks to the acquisition of a new UAS equipment (GPS) and change the graphic and corporate image of the company, to support the creation and consolidation of innovative companies, June 7, 2022. This has been supported by the InnoCámaras Program of the Badajoz Chamber of Commerce.